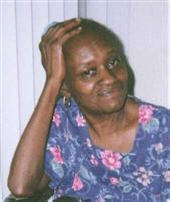 Obituary for ANNIE MAE JOHNSON
Obituary

Name: Annie Mae Johnson

Born: May 13, 1946

Parents: The Late Lee and Annie Bell Sawyer

Demise: August 7, 2011
Hernando Pasco Hospice Brooksville, Florida

Sister Annie Mae Johnson was born in Williston, Florida. She was reared by her father, Lee Sawyer and stepmother, Addie Sawyer. Annie Mae was employed as a nursing assistant at Brooksville Nursing Manor and later employed at Kmart as a sales clerk. She leaves behind to cherish her memories, her husband Ulysee Johnson; her children, Deborah L. Sawyer, Johnny E. Williams and Dee Dee B. Williams; daughter-in-law, Angela Williams; brother, Jimmy Sawyer (Mary) of Miami, FL; sister, Lois Sawyer of Manhattan, NY; two sisters-in-law, Cheryl Williams and Barbara Kincade; ten grandchildren, LaVonnia Kincade Lee (Chris), LaKecia Kincade, Titiana Kincade, Fredericka Kincade, Johnny Williams II, Robert Lee Williams, Maurice Austin, RenShae Austin, John Wright and Quanisha Balmer; seven great-grandchildren, Ti'Narion Kincade, Ja'Oni Reese, A'Yana Kincade , De'laijah Kincade, Mila Lee , Shanterica Owens and Rickera Williams; three very devoted and loving friends, Barbara Mason, Maryann Waddy and Norma Johnson; and a host of nieces, nephews, cousins and sorrowing friends.

Viewing: Saturday, August 13, 2011 ~ 9:00 A.M. to 11:00 A.M. ~ Cason Funeral Chapel ~ 830 School Street ~Brooksville, FL 34601

Services: Saturday, August 13, 2011~11:00 A.M.~Cason Funeral Chapel~830 School Street~ Brooksville, FL 34601~ Rev. Malachi Fogle, Officiating.
Read More