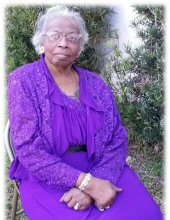 Obituary for Bettye Jo Morgan
Obituary
Bettye Jo Morgan
Her Flight through Life
Arrival Dec. 6, 1935 Departure Dec. 10, 2017

Bettye Jo Morgan was born on December 6, 1935 to her loving parents Harry Washington, Sr. and LaVerne Washington and was the first born daughter of nine siblings. She was married to the late Harold Morgan, Sr. and was the mother of five children: Valerye Morgan, Brooksville, FL; Harold Morgan, Jr. (deceased); Gregory Morgan, Brooksville, FL; Marilyn Morgan, Chattanooga, Tennessee; and Lynn Morgan (Michelle), Orlando, FL. Bettye and Harold also helped to raise their oldest grandson, Corey Morgan, West Covina, California. She leaves to cherish her memory: one brother: Harry Washington, Jr. (Evelyn), Brooksville, FL; three sisters: Mamie L. Sanders, Brooksville, FL; Brenda J. Mobley, Brooksville, FL, JoAnn Harris, Tampa, FL, sister-in-law: Juanita Washington, Brooksville, FL; 14 grandchildren, 25 great-grandchildren, and a host of beloved nieces, nephews, cousins, and devoted friends.
She was educated in Hernando County Public Schools,
attended Florida A&M University and graduated from St. Leo College with a BA degree in Early Childhood Education. She worked in Headstart for 8 years and in the public school system as a teacher for 24 years for a total of 32 years.
Bettye Jo Morgan has been a loyal and faithful member of First Baptist Church of Shady Rest in Brooksville, FL where she was a pianist for over 60 plus years. She served as a pianist for
Bethlehem Baptist Church, Allen Temple, The Male Chorus and various choirs throughout the community. She has served as the
pianist for Vacation Bible School since 1982.
Playing the piano was her passion and it enlightened her soul. She took pleasure in teaching her children and grandchildren how to play Chop Sticks and enjoyed playing an occasional Boogie Woggie blues tune just for fun and pure entertainment.
Over the years, Bettye Jo Morgan faithfully served her family, church and community. Her affiliations include:
Trustee at First Baptist Church of Shady Rest
Member of NAACP
Member of Minister Layman Alliance, Financial Secretary
Member of Black Educators Caucus
President and Vice President of Senior Choir Federation
President of the Sister of Distinction
Treasurer of the Sunshine Fund Congregate Meals aka "The Site"
Motto: "If I can help somebody as I travel along, then my living shall not be in vain".


Flowers may be delivered to the funeral home starting at 9 am, Friday, December 15, 2017.

Matthew 5:4 - Blessed are those who mourn, for they shall be comforted.
Read More
Previous Events
Service
Bethlehem Progressive Baptist Church
661 South Brooksville Avenue
Brooksville, FL 34601
A public viewing will be held starting at 1:30 pm to 3:30 pm. The funeral cortege will meet at 11880 Broad Street, Brooksville, FL at 2:45 pm.
Cemetery Details
Location
Lake Lindsey Cemetery
Lake Lindsey Road
Brooksville, FL 34601