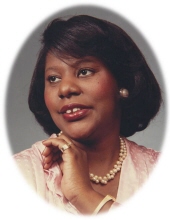 Obituary for Brenda Joyce Wright Cason
Brenda Joyce Wright Cason was born to the late Jennie Belle and William Wright, Jr. on July 28, 1950 in Brooksville, Florida. Brenda attended Moton High School and graduated as the valedictorian of the class of 1968. She attended the Florida Agricultural and Mechanical University (FAMU), graduating Magna Cum Laude with a Bachelor of Science degree in Education in 1971 and continued her studies earning a Master of Science degree in Early Education in 1977.

She began her career as a teacher with the Hillsborough County School Board. Within a few years, she returned to her roots and taught kindergarten for the Hernando County School Board for many years. She also became Hernando County's first African-American woman Assistant Principal. Brenda continued to serve as an assistant principal for various schools until her retirement in 2007. Brenda loved her students, fellow educators, and took pride in making a difference in the lives of all she encountered.

Brenda recognized the importance of being an example for others in the community. She was involved in many civic organizations to include: Black Educators Caucus, Democratic Black Caucus of Florida, Delta Sigma Theta Sorority, African-American Club of Hernando County, Rotary International, Take Stock in Children, Head Start, Hernando County Choir Federation, and Interested Women of Various Endeavors in Society (IWVES) Club. She was a lover of music, had a song for every occasion, and played the piano since age sixteen. She played for Ebenezer Missionary Baptist Church and Mt. Pilgrim Freewill Baptist Church until her health failed.

However, Brenda would say her greatest accomplishment was raising her daughter, Keisha E. Cason. Born from the union of Luther E. Cason and Brenda, Keisha was her permanent side-kick. From choir rehearsals, school board meetings, shopping trips, FAMU football games, to doctor's appointments and hospital stays Keisha was always with her. Brenda transitioned into eternal life on April 17, 2020 after a ten-year battle with Alzheimer's. Our family is forever grateful to the staff of Brooksville Healthcare Center for their care and support throughout Brenda's journey.

A memorial service for Brenda Joyce Wright Cason will be held online via streaming on May 16, 2020 at 12:30 PM at FamilyFirstAssembly.tv

In lieu of flowers, our family is requesting donations to the Florida Gulf Coast chapter of the Alzheimer's Association https://www.alz.org/flgulfcoast

Per current CDC guidelines the service is restricted.
Read More