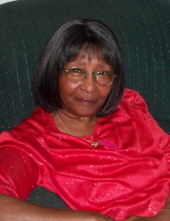 Obituary for Christine T Reed
Born April 4, 1940 to the late Rosie and Cleveland Baines. She grew up on the Eastern Shore of Virginia in a big family and lived a blessed country life. She was the second oldest sibling in her family and often spoke of the experiences she encountered while helping to raise her younger siblings as well as her Nieces and Nephews. She was so proud of her family. While in her late 20's; she met, fell in love and married the late Levin Reed. Unable to have children, in 1970 they adopted their daughter, whom they named Latina Marie. Christine adored motherhood and spent her life lavishing her only child with love. Christine held many jobs during her lifespan but she worked as a horticultural worker for the majority of her life, which took her into retirement. In 1986 she was blessed to become a grandmother, now she had a new love of her life. She was loved by all she encountered. She was called Mom and Grandmom by so many people in her extended and adopted families which meant; anyone that she encountered. One of her favorite things to do was to give advise to help others with whatever issues they had. Growing up Methodist and attending Franktown AME Church in Franktown, Virginia; she was a very spiritual woman that placed the Lord at the head of her life. She never met a stranger and always left an everlasting memory with all she encountered. She was very high spirited, which carried her through the end of life. After being placed under Hospice care in 2020 she soon became a favorite with the nurses and enjoyed the weekly hugs and kisses they would engulf her with. Christine was truly blessed to have lived such an amazingly loved life.

Christine was preceded in death by her parents; Rosie and Cleveland Baines, Husband; Levin Reed, Sisters; Thelma Carter and Gladys Trower and Brother; Milton Baines.

Left behind to cherish her memory, Daughter; Latina Stubblefield (Gerald Michael) of Spring Hill, FL., Grandson; Terrell Reed (Shayla) of Lakeland, FL., Brothers; Robert Baines of Norfolk, VA., Paul Baines of Suffolk, VA, Sister; Margaret Sample (Fredrick) of Portsmouth, VA, Special Adopted Daughters; Shawna Phillips (Wilber) of Norfolk, VA., Teresa Shepperson (Jason) of Windgate, NC., Ladonna Spence of Virginia Beach, VA., Betty Ashby (Darnell) of Portsmouth, VA., Cora Ferebee (Abner) of Suffolk, VA., Natasha Perry of Newport News, VA., Zaina Brewster (Michael) of Brooksville, FL., Valora Richardson (Wendell) of Rock Island, IL. and Special Adopted Sons; Frank Bradford and David Bradford of Spring Hill, FL., Howard Bradford (Connie) of Magnolia, DE. and Special Circle of Friends; Helen Grice and Karen Pearson of Spring Hill, FL. and a host of adopted Grandchildren, Nieces, Nephews, Friends and loved ones.
Read More
Previous Events
Visitation
Antioch Fellowship Baptist Church
9429 Santoro Street
Spring Hill, FL 34608
Service
Antioch Fellowship Baptist Church
9429 Santoro Street
Spring Hill, FL 34608