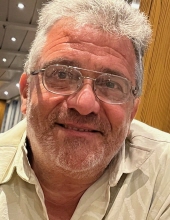 Obituary for Daniel Mark Colucci
Even though Daniel Colucci's name won't be written in history books, or spoken about in movies, his kindness, generosity, jokes, teases, and warmth will never be forgotten.

Dan was a man who could make a joke over anything and frequently enjoyed telling the story of finding a person frozen in a waterbed in one of his rental properties. His children liked to remind him of the time he ate an entire watermelon in one sitting and became incredibly ill.

For over 40 years, Dan worked as a medical technologist, first at St. Elizabeth's Hospital in Youngstown, Ohio and then at Quest Diagnostics in Tampa, Florida. He regularly liked to disturb his children by telling them about disgusting diseases he diagnosed in the lab, unique toenail fungus, and exploding poop.

Dan and his wife, Patty, moved first to the community of Ashfield Place in Florida and, after Dan retired in 2020, they moved to their dream home in Spring Hill, Florida. Dan and Patty were embraced by two, loving communities and they never felt more at home than in their new neighborhood. Dan spent his life in the service of Christ and allowed his "light to shine before others" by loving every person he met.

Dan's favorite hobbies included helping his neighbors in the sweltering heat, fishing for hours in the sweltering heat, home improvements in the sweltering heat, and spending time with his family in the air conditioning (at their request). His newfound routine of napping, swimming, and snacking throughout the day quickly became central to his retirement.

But, Dan was taken suddenly at the youthful age of 67 and his death has devastated his family, friends, and anyone who had the pleasure of knowing him. Dan leaves behind the love of his life, best friend, devoted partner, and better half for over 45-years, Patricia Colucci (nee Egan). They lived through the best and the worst of times, but they made it through every joyous occasion and turbulent event together. Dan also leaves behind his son, Joshua Colucci and grandson Blake, of Denver, Colorado as well as his daughter, Abbey Colucci (Jarret), and granddaughter, Edith, of Toronto, Ontario. Dan's extended family includes sisters Carol Muth (Chuck), Julie Machuga (Mark), brother Patrick Colucci (Denise), and dozens of cousins, nieces, and nephews. His parents, Patrick Colucci and Helen Colucci (nee Andino) are previously deceased.

His children and wife don't understand why he was taken so suddenly and don't know how to live without the constant of Dan Colucci. He was the rock of our family, the perpetual goof-ball, the advice-giver, the handyman, the carpenter, the scientist, and the most amazing father, grandfather, and husband a family could ever ask for. We celebrate the life we shared with him, but mourn the tremendous loss of his unwavering presence.

Memorial services will be held August 30 at Life Church in Spring Hill, Florida located at 18924 County Line Rd, Spring Hill, FL 34610. Doors open at 6:00pm.

A memorial service in Ohio will take place at a later date. Details to follow.
Read More