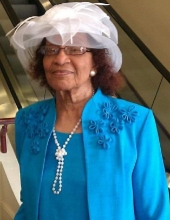 Obituary for Deaconess Freddie Lee Simmons
Obituary
Freddie Lee (Waters) Simmons was born September 2, 1924, to the late Rev. Mose Waters and Deaconess Clara Waters at Rock Crusher in Crystal River, FL.
Freddie Lee attended grade school where instruction was held inside of the Mt. Zion A.M.E. Church in Hernando, FL until her family moved to St. Petersburg, FL. There she attended Gibbs High School. During her early childhood, Freddie Lee, her sister Alva and their cousin Willie Pearl formed a singing trio. They'd give live performances in many hotels and radio stations throughout the South. Later her family moved backed to Hernando, FL and she married Coy Simmons on December 20, 1946. To this union 9 children were born. After the birth of her fifth child, Freddie Lee enrolled in night school at the Booker T. Washington School's Adult Education Program in Inverness, FL. In 1960, she received her diploma alongside her eldest child, Ronald Graham. Freddie Lee loved to attend her kids' and grandkids' school functions and sporting events. She also enjoyed cooking, fishing, church and social events. She enjoyed attending funerals near and far. Freddie was a faithful member of Mt. Zion A.M.E. Church where she served as an usher, stewardess, missionary, and was consecrated as a Deaconess. She was known for her many rote recitations. She'd loved to recite the entire books of the Bible and a whimsical poem by Paul Lawrence Dunbar "I's Bound to Have a Beau". After being spiritually fed on Sundays, Freddie Lee devotedly fed the preacher and his or her family at her dinner table. She found joy in her service to God, her family, her church, and the community.
In addition to her parents, Freddie Lee was preceded in death by her husband of 55 years, Coy Simmons; son, William Wayne Simmons; sister, Alva "Chink" Lamb; grandson, Melvin "Luke" Simmons, Jr.; great granddaughter, Anayah Rain Simmons; daughters-in-law, Margaret Simmons and Mary "Lynda" Simmons; and nephew, Dwight Lamb.
Freddie Lee is survived by her eight children, Ronald Graham, St. Petersburg, FL; Melvin Simmons, Sr., Hernando, FL; Alan Simmons, Sr. (Evelyn), Gainesville, FL; Robert Simmons, Sr., Hernando, FL; Bruce Simmons (Vivian), Homosassa, FL.; Diane Simmons, Inverness, FL; Melanie Simmons, Inverness, FL; and Juana Simmons, Hernando, FL. Other family members left to cherish and carry on her legacy include twenty-six grandchildren, thirty-seven great-grandchildren, seven great great-grandchildren. She also leaves behind her niece Pearlie Mae Leaks, a host of nephews, nieces, and loving cousins; godbrothers Dwayne Houston and Mathis Strange; a lifelong special friend, Marion Henry; and longtime, sporting events riding partner, Florece Dixon.
Read More
Previous Events
Visitation
Mt Zion African Methodist Episcopal Church
2532 N Calomonden Terrace
Hernando, FL 34442
Service
First Baptist Church Inverness
550 Pleasant Grove Road
Inverness, FL 34452
Cemetery Details
Location
Hernando Community Cemetery
Lemon Street
Hernando , FL 34442