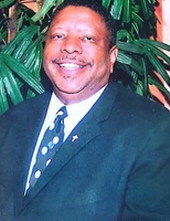 Obituary for Eddie Vernon Braynt
Eddie Vernon Bryant
Obituary
Eddie Vernon Bryant was born on July 11, 1950, in Brooksville, Florida, to the late Eddie Bryant and Inez Bryant Pitts. He was the fifth of six children. Eddie is preceded in death by his brother, Randolph Bryant and sister, Theresa Bryant Perkins. While in Brooksville, Eddie was accepted into the families of Levy Johnson, Mary Love, Clyde Clark, and Eloise Wright. Upon his relocation to Las Vegas, Eddie and his Brother Victor Dunn was accepted into the families of Mother Christine Thompson, which served as a continual source of consolation.
Eddie attended and graduated from Moton High School in 1968, the school's final graduating class. After being drafted into the USAF and serving seven years, Eddie was honorably discharged and made Las Vegas, Nevada his home.
Eddie was a very loyal, passionate, and devoted friend and developed lifelong relationships. Eddie had a zest for life, his laughter was infectious, and he always enjoyed having a good time, whether he was with family or friends. Eddie also enjoyed traveling, line dancing, playing cards, eating out enjoying "good" food and talking and laughing with the people he surrounded himself with. Eddie could stop conversations in a room with a grand entrance and his bigger than life voice and personality because he was just that amazing.
Eddie initially joined Mt. Pilgrim Freewill Baptist Church under the leadership of the late,
Rev. LR Williams and later Victory Missionary Baptist Church under the leadership of the late, Rev. AJ Thompson Sr., where he remained a faithful member until his demise. His spirit was joyful, and that joy came from GOD above. Eddie would always say he was "Blessed Beyond Measure" by the "Greatest that Ever Lived - GOD", and so he demonstrated this through his Time, Talents and Treasures and modeled the life of his Savior Jesus Christ. On Tuesday, November 22, 2022, God called Eddie from work to reward.
His life, love, and memories will be cherished by his brother, Robert Bryant (Josephine); son, Elgin D. Sherman (Fellicia); god-brothers, AJ Thompson (LaDonya), and Victor Dunn (Tonia); sisters, Sarah Douglas, Mae Bryant, and Katie Bryant; god-sister, Henrietta Thompson; grandchildren, Jered Sanders (Brittani), Janovia Sherman and Sanovia Sherman; nieces, Anita Yvette Scriven (Herman), Tanya Kincade (James), Sonia Bryant, and Daphne Douglas; nephews, James Perkins, Jr., John Bryant (Dale), Timothy Douglas, and Michael Douglas; nieces and nephews, Jamie Kincade (Karla), Herman "Cie" Scriven (Beatrice), Bryant Scriven (Diana), Brittany Scriven, and Jennipher Kincade; Florida sisters, Brenda Mobley, Joann Harris, Mamie Sanders. Cherished friends, Rosa Carter, Jane McQueen, Doris Love, Cynthia Williams, Olga Taliaferro and Cora Brown, Janice Moore, and the Class of 1968, along with a host of cousins, great- nieces, great-grandchildren, nephews, and sorrowing friends.
Read More
Previous Events
Service
Eastside House of God
827 1/2 Twigg Street
Brooksville, FL 34601
Cemetery Details
Location
Spring Hill Cemetery
8580 Fort Dade Ave
Brooksville, FL 34601