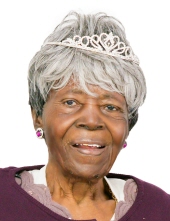 Obituary for Eva Black Foster
Foster, Eva Black (Day) passed away on February 5, 2021. She was born in February of 1922 in Marianna, Florida. Having lost both parents at an early age, she quit school, found a job as a domestic worker with a young couple, and relocated to Dade City in 1936. Blessed with uncommon fortitude, she left home because she could no longer tolerate seeing her elderly aunt working tirelessly to care for her. In the following years, she held a variety of jobs ranging from domestic help to finishing concrete. An honest hard day's work never frightened her, especially if it kept food on the table and a roof over the heads of her children. Eva instilled in her children that same work ethic, often by letting others know she had several children who needed to do something other than eating.

Eva was a faithful Christian, and she always leaned heavily on her faith and prayer, especially in times of difficulty. Her church family was very important to her. She enjoyed cooking big meals and continued to do so, long after her children left home. Though somewhat modest, Eva was an accomplished cook. She would often say: "I may not be the best cook, but I can hold down the kitchen until a better one comes along." Family and friends often called on her to prepare her sweet potato pies, bread pudding, wild game, or anything needing to be cooked. Culled peaches became preserves. Those who did not like pumpkin ate it because she cooked it so well people thought they were eating sweet potatoes. In her later years, fishing and listening to gospel music were two of her favorite things to do.

She and her husband, Lonzie Day, moved to Carver Heights community in the mid 1940's. They were the first residents to settle there. They bought an old building that had served as the kitchen at a defunct German prisoner camp and moved it to the property. Here, the family became well known for raising farm animals and crops. A young woman stopped by looking for collard greens a few days before she passed. The latest rain always stirred up thoughts of planting a garden.

Eva was preceded in death by her husbands, Lonzie Day and Albert Foster, children, Geneva, James, Jeremiah, Zebbie and Thomas Day. She is survived by sons, Willie Day (Gayle), Eric and Dennis Foster, numerous grand, great-grand, and great-great grandchildren. She is also survived by a daughter, Emma Jones (Albert), and numerous relatives with whom she maintained close contact.
Read More
Previous Events
Visitation
Sellers-Cason Funeral Homes & Cremation Services
830 School Street
Brooksville, FL 34601
Cemetery Details
Location
Dade City Cemetery
38151 Martin Luther King Blvd.
Dade City, FL 33525