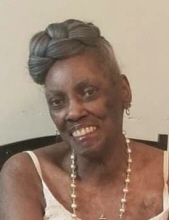 Obituary for Francis Louise Brown
Frances Louise Jenkins Brown, was born 11 October 1943, in Dunnellon, FL, to the late Walter and Thelma Jenkins. She was the first [of her mother's] five children. She was the wife of one husband: Ulysses (Bill) Brown.
While raising her family, Frances also worked for Hernando County Head Start for over 25 years. She loved teaching preschool. She cared for the little people, so much, that she continued to follow most of them up and through their adult lives. She would probably still be teaching, had her health not declined. She touched so many kids, and parents alike. While she loved her students so much, she loved her family much much more!
Frances had never met a stranger. She came away from almost every bus trip and/or flight, with a phone number and a new friend. She was a wonderful, kind, affectionate and loving mother to her children [those she birthed] and those that were gifted to her through marriage; she loved them as her own.
She was known to call everyone that she had a phone number for. Affectionately, she'd start those conversations with, "I'm not going to talk long, but I just called to check on you."
A lot of people are going to miss those "check-in" calls.

She was preceded in death by her husband Ulysses "Bill" Brown and bonus daughter, Diane Badger. She leaves to cherish her love and memories, her son Lionel, of West Palm Beach, FL; Daughters: Sonja (Michael), Sylvia (Tracy), both of Montgomery, AL. Bonus son, Mark "Popeye" Drake(Loretta) of Brooksville, FL; bonus daughters: Lealer, of Brooksville, FL. and Patricia (Derwin), of New Port Richey, FL.
Grandchildren: Fredrico(Chelsea), Lindsey, Daniel, Keyra, Leandra, Maurice, Monica, Trenton, Deonta, Fredrick, Briana, Seth, and Noah.
"GG's" great grand babies: Princeton, Destiny, Kayden

Sisters: Flora of Rockledge, Fl, Mattie of New York,
Marie of Montgomery, AL; Mary(Robert) of Dunnellon, FL; Marjorie of Montgomery, AL
Brother: Clinton Jenkins(Mary) of Warren, GA.
Three brothers-in-law: Robert McIntyre, Dunnellon, FL; Leon Brown(Mary), of Anchorage, AK; Robert Brown(Emily), of Brooksville, FL.
Sisters-in-law: Gladys Brown, Marie Brown and Donia Brown.
Aunt: Arzula Hannible; Uncle: Clinton Burns, both of Dunnellon, FL. One special cousin, whom she loved like a brother: Kenneth Burns
Two very special nieces: Gloria, of Atlanta, GA and Cynthia(Cissye) aka "her other child"of Brooksville, FL….both of whom she spent countless nights(late) on the phone, yacking it up until the wee hours of the morning.
Two amazing best friends, of 50+ years: Ruby Stewart, Tallahassee, FL. and Margaret Clark, Brooksville, FL. Adopted sons: Tony Brackins and Randy Johnson. A host of nieces and nephews; cousins and friends.

Frances loved the Lord and she loved people! If she said "I love you", you can be sure that she meant it. Frances was the epitome of "LOVE IS WHAT IT DOES"!
Read More
Previous Events
Visitation
Sellers-Cason Funeral Homes & Cremation Services
830 School Street
Brooksville, FL 34601
Graveside
Ft. Taylor Cemetery
Ayers Road
Brooksville, FL 34601
Cemetery Details
Location
Ft. Taylor Cemetery
Ayers Road
Brooksville, FL 34601