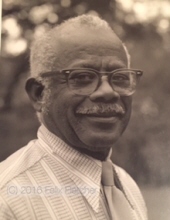 Obituary for Fred Douglas Fletcher
The Life of...
Fred Douglas Fletcher
August 29, 1925 ~ September 7, 2016
 
Fred Douglas Fletcher was born to the late Captain Phelix Edward Fletcher and Rosa Senda Fletcher on August 29, 1925 in Ray, Georgia.  He was raised in Russel Hill, Florida until he moved to Brooksville, Florida as a young adult. 
 
He enlisted in the United States Army in 1943 and served in the Quartermaster Corps as a private until 1945. He served in the European Theatre of Operation in Western Europe during World War II.

After leaving the military, Fred enrolled at Florida A&M College to become a tailor. He later changed his degree to become a barber. After graduating in 1952, he operated his own barber shop on the south side of Brooksville in the area known as "The Sub."

Eventually he owned and operated a beer and wine bar. This would later become a neighborhood one-man "convenience" store. His store was one of the last remaining businesses on the predominately Black "Sub" section of Brooksville.

There is a story of a family on "The Sub" who lost their home during a financial hardship and Fred successfully bid on their property and then promptly gave the property back to the single mother.
 
Although work took its toll on Fred's social life, he found time to become a Mason. But most of his time was spent manning and restocking his store-Fred General Store[sic]. He worked Monday through Saturday. People on "The Sub" called him "Mr. Fred".

"Mr. Fred" gave the appearance of being a stern man but many times he gave treats to children who could not afford to pay. If you saw him standing outside churches during "home-going" ceremonies, he was outside not because he was afraid to go in but because he was an emotional softie. He had what some described as a "leaky tear valve" whereas he would laugh so hard until tears would run down his cheeks.
 
He was preceded in death by all his siblings, Arthur, Rebecca, Rosa, Phelix, Sarah, Beatrice, Eddie Mae, "J.W.", Roy, Rey and his grandson  Fred Willis Fletcher, Jr.
 
He leaves to cherish his memory Ruby Fletcher of Brooksville, FL, Barbara Fletcher of Brooksville, FL, Fred Willis Fletcher of Brooksville, FL, Felix Fletcher and Bonnie Ambrose of Lewisville, TX; Inease Inmon of Richmond, VA.

Grandchildren: Gelita and Gary Smith of Tampa, FL and Dionne and Timothy Atkins of Covington, GA. Anthony Carter of Columbia, SC., Vashawn Carter of Atlanta, GA and Diane Fletcher of Atlanta, GA.

His great-grandchildren are Britni Baker, Phillip Smith and Janiah Smith of Tampa, FL, Brianna Hollomon and Nicholas Jean of Covington, GA, Amir Carter of Columbia, SC, Eric Fletcher, Joneshia Fletcher, Amir Fletcher, Nyla Fletcher and Fred W. Fletcher, III of Atlanta, GA; Sister-in-law: Inez Inmon of St. Petersburg, FL, Vivian Laws Fletcher of Bartow, FL.

He has a host of nieces, nephews and cousins.
Read More
Previous Events
Visitation
Sellers-Cason Funeral Homes & Cremation Services
830 School Street
Brooksville, FL 34601
Service
Bethlehem Progressive Baptist Church
661 South Brooksville Avenue
Brooksville, FL 34601
A public viewing will begin at 11:30 am until service time. The funeral cortege will form at the Cason Funeral Home at 12:15pm. ******Interment: Monday, September 19, 2016 at 2:30pm. Funeral cortege will form at the Cason Funeral Home at 1:15pm. Florida National Cemetery Bushnell, FL.
Cemetery Details
Location
Florida National Cemetery
6502 SW 102nd Ave
Bushnell, FL 33513