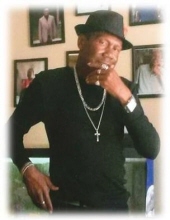 Obituary for George Randy Leonard
Obituary
Brother George Randy Leonard
 
Born:       August 3, 1960, Uniontown, AL
Father:    The Late John L. Leonard, Sr.
Mother:   The Late Ethel Lee (Wormley) Leonard
Demise:   March 26, 2016
 
He was preceded in death by, his father (John L. Leonard); mother (Ethel Leonard); six brothers, Waddle (aka "Menno"); John Jr. (aka "Tinbucket"); James (aka "Bull"); Willie (aka "Jelly Pot"); Robert; and LC, One Sister-in-Law, Joann Leonard.
He leaves to cherish his memories: The Love Of His Life, Barbara Whitten of Brooksville, Fl; Two sons, Curtis Rogers (Jennifer Ryals) of Brooksville Fl, and Anthony Badgley (Sarah Mazure) of Kalamazoo,MI; Two Daughters, Tonya Gottsman (Kenneth) of Ridge Manor Fl, and  Rachel Ann Rogers (Jason Daoust) of Brooksville Fl.; One sister, Juanita Williams (Christopher Sr.) of Brooksville, FL; three brothers, Leon Leonard, Joseph Leonard (Joyce People), all of Brooksville, FL and Jimmie Leonard Sr. (Linda), Spring Hill, FL; A host of beloved grand children, nieces, nephews, cousins and friends. One very special aunt: Maylee (Wormley) Paige . Extended Family members: Amanda Rogers (Shane Gibson), Russell Thrasher (Samantha Thrasher), Philip Williams (Jessica Whitten), Wayne Mcdougal (Leslie Rios), Jody Halladay, Suzanne Mccoy (Billy Mullins), Audrey Harrin (Terry Harrin), William Harrin, Nicole Babcock (Justin Babcock) and Carroll Ortiz Of Brooksville Fl. 
 
"Papa Chicken" Thank you:
For all the years that you loved us and all the wonderful memories ~in life we loved you dearly ~ in death we will love you the same ~ We will see you later..
Love Always, "Your Family"
Read More