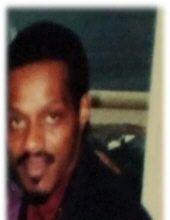 Obituary for Grady Terrence Hunt
Grady Terrence Hunt was born June 12, 1955, to the union of the late Grady and Daisy Hunt. The 2nd son of four children, Terrence as most would call him, found ways to stand out among his siblings displaying talent that was unique to him. Growing up in the Bronx at a time when families were intricately connected through the activities of their children, he attended the local public schools making friendships that he would keep for life. As a young curious boy, he routinely took things apart only to put them back together at the dismay of his family. While a student at John Phillip Sousa JHS he discovered his love for music. He played several instruments, most self-taught, though he loved his guitar the most. Along with his friends he created several garage bands and later, for a short time, went on to play professionally. His innate curiuosity and sense of adventure characterized his entire life.

He went on to become a certified auto mechanic.

He found his salvation, as so many of us have in the Salem home of his parents and grandparents before him.

In early 2000, he found a calling giving of himself to serve others as a Certified Alcohol and Drug Counselor. His ability to help others explore attainable options to bring positive change to their lives seemed to come with ease. With his ability to disarm others with witty one liners, he never stood in judgement. Music remained the constant in his life that kept him grounded. He began to use his talents as a part of the music ministry at Unity Baptist Church in Mount Vernon, NY and later at when he relocated to Charlotte, NC in 2009. His desire to be close to his children and grandchildren brought him to the Tampa, FL area in 2018. His final days were spent surrounded by his family and as long as he could muster the strength he had his guitar in his hand.



Grady Terrence Hunt, a father, grandfather, great grandfather, uncle and brother, is survived by his daughters, Tyeesha Hunt, Januery Lewis son in law Tyrone Martin, Deanna Hunt-Parson and son in-law Carl , his son, Terrence Lamar Hunt, 10 grandchildren and 1 great grand, his nephews Michael and Reginald Hunt, his brother, Daniel and sister Carol. He was preceded in death by his brother Reginald and his parents and by many who knew and loved him.
Read More
Previous Events
Service
Greater Love Outreach Ministries
20053 Yontz Road
Brooksville, FL 34601