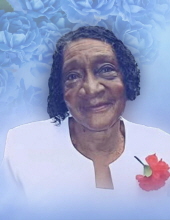 Obituary for Ida Brown Williams
Born: December 19, 1932 in Webster, Florida
Demise: October 14, 2021
Mother: Eva Acree Brown
Father: James E. brown
Education; She attended Moton School
College: University of Connecticut
Church Affiliation: Allen Temple AME, currently under the leadership of Rev. Curtis Lewis. Ida was a faithful member, served as steward, financial officer, an all-around worker. Whatever her hands found to do, she did it.

Ida preceded in death by her mother, Eva A. Brown; father, James E. Brown; husband, Clifford Williams; son, James Brown; three sisters: Lizzie Brown, Rubye Weaver and Clyde Logan and grandmother, Hattie Lowe.

She leaves to cherish her memories her sister, Lucy Lee of Lauder Hill, FL, Mary Flowers of Ft. Pierce, FL and Jimmie L.Nelson of Avon Park, FL, grandchildren Deirdre S. Brown and Desmond J.Outlaw, great-grandchildren Jalaun Outlaw, Tayvon Brown, Ja'Quan Brown, Ja'Kiasha Johnson, Chad Sanders, Jr and Jayveon Outlaw, daughter-in-law Barbara Brown, special friends Juanita Badger and Virginia Cox and a host of nieces, nephews, cousins, and friends

She will be dearly missed by all who knew and loved her.
Read More
Previous Events
Graveside
Brooksville Cemetery
1275 Olmes Rd
Brooksville, FL 34601
Cemetery Details
Location
Brooksville Cemetery
1275 Olmes Rd
Brooksville, FL 34601