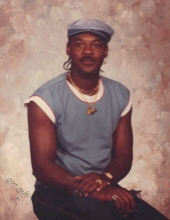 Obituary for Jessie Paige
Obituary of...
Jessie Paige, Jr.

Jessie Paige, Jr. was born June 7, 1956 to Jesse Page and the late Lucille King in Brooksville, FL. Affectionally known as 'Paige', 'Jake' or 'Jr' by family and friends was a smooth talker, jokester, and excessive story teller. You were thoroughly entertained in his presence. In 1976, Jessie married M. Denise Stephens Paige and to this union two children were born, one who preceded him in death. Upon leaving Brooksville, he relocated to Titusville, FL where he met his life companion, Rachel Pouncey. Jessie loved his family and fathered twelve children on his sixty year journey of life. "Jake" as we called him was full of life and laughter. He had a nickname for everyone, especially his grandchildren, all of whom he loved dearly.

Jessie "Jake" Paige, Jr. was preceded in death by his mother, Lucille King; son, Joaquin A. Stephens; two brothers, George L. Williams and Gilbert King; grandparents, Edith King and Willie S. Washington, Sr.; special aunts and uncles, Catherine Washington, Cleave King, Sr., Jimmie Paige, Sr., Alice Black and nephew, Antiquan Byrd.

He leaves a legacy of love and laughter to: 11 children, Antwan Brandon (Roney), Pierre D. Paige, Torrie Ingram (Maya), Shenika R. Bennett, Antonio C. Paige, Earles McCloud (Kelly), Melissa McCloud-Harris, Yashica McCloud, Nayetta McCloud, David L. Pouncey and Kameka Evens; loving and devoted companion, Rachel Pouncey; father, Jesse Page; step-father, Hubert Delaine; four brothers, Marvin Byrd (Vanessa), Arthell Williams (Valerie), Kenneth Delaine (Etta) and Wayne Paige (Sophia); 4 sisters, Evelyn Simmons (Alan), Joyce Starks (Jesse), Judy C. Badger (Elder R.J., Sr.), and Sonya Saxton-Sanders; sister-in-law, Jerrlyn Williams 4 uncles, Willie Washington, Edward Paige, Wilbert Paige (Mahalia) and Prince Page; 6 aunts, Gerline Waddy (Fred), Annie Paige, Leila Smith, Ruthie Colbert, Claudine Jones and Madeline Paige; 41 grandchildren, 17 great-grandchildren, special first cousins, Tim King, Henes Washington, Tomeeka Waddy and Benita Kimbrough. He further leaves a host of nieces, nephews, cousins, other relatives and special friends.
Read More
Previous Events
Visitation
Sellers-Cason Funeral Homes & Cremation Services
830 School Street
Brooksville, FL 34601
Service
Bethlehem Progressive Baptist Church
661 South Brooksville Avenue
Brooksville, FL 34601
There will be a public viewing starting at 12:30 pm until service time. Funeral cortege will form at the family home: 19274 Barnett Road, Brooksville, FL 34601 at 1:00 pm.
Cemetery Details
Location
Spring Hill Cemetery
8580 Fort Dade Ave
Brooksville, FL 34601