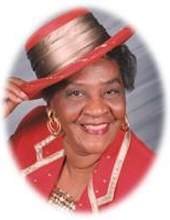 Obituary for Mary Louise Crisp-Johnson
Obituary
Mary Louise Crisp- Johnson


Mary Louise Crisp Johnson was born March 14, 1928 in Boliver, TN. Daughter of the late Sammie Crisp, Jr. and the late Pearlie Mae Sain-Crisp. Mary had five children to go to glory before she did; Roscoe Crisp, Earlene Crisp,  Marlo Regina Quisenberry-Obrien and a set of twins. God only promised us three score and ten years (70 years). God blessed Mary with four score and seven years (87 years). Momma, Grandma, Great Grandma, Great-Great Grandma, Sister, Aunt and Cousin Mary lived 87 fruitful, adventurous and blessed years. We as her family, thank you God for the blessings.
Mary leaves to cherish her memories her children Robert (Tina) Crisp, Sandra Courts Walker, Rosemary (Dudley) Mahone, Wallace Stovall, Alice Faye (Steve) Payne, Carmell (Timothy) Hensler, Adell Courts, Jackson (Helen) Quisenberry, Jr. and Michael (Maryelle) Quisenberry. Mary would need a book to name all the grand's, great-grands and great-great-grands, she was blessed with 24 grandchildren, 27 great-grandchildren and 3 great-great grandchildren. Her two brothers, Sammie Crisp and Carl Crisp; one sister, Roziner Crisp-Burrell, and a host of other relatives and friends.
Services: Saturday, May 2, 2015, 4 pm ~ No Viewing ~ Cason Funeral Chapel ~ 830 School Street ~ Brooksville, FL   34601 ~ Rev. James F. Pullings, Sr.
Read More