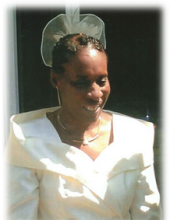 Obituary for Patricia Ann Wilson Neal
In Memory of Our Beloved
Patricia Ann Wilson Neal
Who was called home to rest on
Wednesday, March 15, 2017

Patricia was born to the late Elijah Wilson* and Georgie Wilson on August 21, 1959. She attended schools locally and graduated from Crystal River High School as a member of the class of 1976. On May 30th, 1997 she was joined in holy matrimony to Maglee Neal Sr.

Patricia was very loving and giving to her family and friends. She exhibited the true spirit of hospitality by feeding her community and making everyone feel welcomed and loved. Additionally, family and friends were Patricia's passion and delight, she enjoyed family dinners, vacations, and reunions.
Patricia was a faithful member of the "Church of the Living God Pillar and Ground of Truth". As such, she was an active member of the choir, usher board and culinary committee. She served in the U.S. Army and attended Central Florida Community College. Patricia worked as a cook at Oysters Restaurant in Crystal River for over 20 years. Her last employment was with Crystal River High School where she worked in the cafeteria.

Patricia will be missed, but always loved by her husband of 19 years, Maglee Neal Sr., her mother Georgie Lee Wilson…
Sons: Patrick Heatly (Keisha) of Crystal River, Florida, Christopher "Brian" Wilson (Sabrina) of Homosassa, Florida, Magglee Neal Jr. of Tampa, Florida, and Earlvin Todd Neal* (Ann) of Clearwater, Florida.
Daughters: Annette Maher (Sedgwick) of Tarpon Springs, Florida, Rose Lumpkin (Joe) of Palm Harbor, Florida, Gale Davis (Duane) of Atlanta, Georgia and Merrian King (David) of Clearwater Florida.
Sisters: Clara Parker of Crystal River, Florida, Ella Mae Brooks (Otto) of Crystal River, Florida, Angela Hill (Joe) of Ocala, Florida, and Frankie Jean Addison (Joe) Beverly Hills, Florida.
Brothers: Melvin Wilson of Clearwater, Florida and Greg Wilson of Crystal River, Florida.
Sister-in-laws: Easter Morris (Vincent) of Odessa, Florida, Riley Hill (Quintin) of Clearwater, Florida and Johnnie Neal of Miami, Florida.
Brother-in-law: Rufus "John" Brown (Katecia) of Oldsmar, Florida.
Aunts: Mary Jones and Celestin Cox of Crystal River Florida.
Grandchildren: Tyler Heatly, Shawn Heatly, Donnovan Heatly, Mya Glenn, Jermaine Floyd, Benissa Hagins (Emmanuel), Robert Maher Jr., Joi Daniel (Brandon), Joseph Lumpkin (Stephanie), Treveon Neal, Franko Neal, Jemonti Neal, Ja'boni Neal, Michael Kendrick, Rufus Ford (Brittany), Vincent Neal (Katy), James Seymour Jr.*, Shaun Seymour (Rebecca), Annissa Goins, Alicia Neal (Alex), Capricoa Neal and Aleah Higgins-Neal
A Host of great grandchildren, nieces, nephews, cousins, extended family members and many friends.

"I have fought a good fight, I have finished my course, I have kept the faith"
II Timothy 4:7

Friday, March 24, 2017, 6pm - The family will receive friends for gathering/fish fry at the family home, 838 N. E. 1st Street Crystal River, FL 34429.

Repast:
The Independent House Of God Which Is The Church of the Living God The Pillar and Ground of the Truth
557 N. 2nd Avenue
Crystal River, FL 34429
Flowers may be delivered to the Funeral Home, Friday March 24th at 12 noon.
Matthew 5:4 - Blessed are those who mourn, for they shall be comforted.
Read More
Previous Events
Service
Mt. Olive Missionary Baptist Church
2105 N. Georgia Road
Crystal River, FL 34429
There will be a public viewing from 9:00am to 11:00am The funeral cortege will form at the family home: 838 N. E. 1st Street Crystal River, FL 34429 10:00am Repast: The Independent House Of God Which Is The Church of the Living God The Pillar and Ground of the Truth 557 N. 2nd Avenue Crystal River, FL 34429