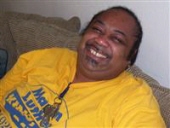 Obituary for Paul Leon Boston
OBITUARY 



Paul Leon Boston 

Paul Boston was born on September 6th, 1957 in South Jamaica Queens to Irene Reid and John Boston, one of nine children.




Paul served in the army out of Fort Riley Kansas with training in race relations. 



Paul was a pillar in the community and fought for the equal rights of disadvantaged people.

Paul was an active member of the Elks Lodge of Brooksville for many years. He was an entrepreneur, specializing in community relations.




Paul met Marie Travick and had four beautiful daughters; Marlaina, Jamila, Paula, and LaRhonda. Paul's daughters referred to him as the "gentle giant," as he was a loving and devoted father.




Paul leaves a legacy that far precedes his reputation. He leaves to cherish precious memories: a sister Bernice Boston; two brothers, Steven and David Boston, along with a nine grandchildren, and a host of

family and friends. 



"THIS GENTILE GIANT WILL BE GREATLY MISSED"

No Viewing or Service

No Flowers 

The Family requests all donations are sent to Cason Funeral & Cremation Services.
Read More