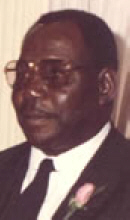 Obituary for ROGER Jr. MORGANFIELD
The Life Of

NAME: ROGER MORGANFIELD, Jr.

PARENTS: The Late Roger Morganfield, Sr. and Mattie Morganfield
BORN: July 17, 1930
DEMISE: April 4, 2007
AFFILIATION: Allen Temple A.M.E. Church, Brooksville

His Survivors include….

A Loving and Devoted Wife:         Elizabeth Morganfield

Two Daughters:        Delores and Mary (Lemon) of Brooksville, FL

Three Sons:         Willard and Clarence of Brooksville, FL, Willie of Orlando, FL

Two Sisters:         Vetra Dyer of Florissant, MO,Rita M. (John) Humphrey of Memphis, TN

Two Brothers:     Louis Morganfield of St. Louis, MO and Wesley (Sharon) Morganfield of Killeen, TX

Mother -In-Law:     Eva Mae Roberts of Brooksville, FL

Sixteen Grandchildren

Seven Great-Grandchildren

Others: A Host of In-laws, Nieces, Nephews, Cousins, and Special Friends.Viewing: Friday, April 13, 2007 ~ 6-8 p.m. ~ Brooksville Chapel ~ 830 School Street ~ Brooksville, FL 34601Services: Saturday, April 14, 2007 ~ Allen Temple A.M.E. Church ~ 834 Leonard Street Brooksville, FL 34601 ~ Rev. John D. Williams, PastorInterment: Monday, April 16, 2007, Florida National Cemetary, Bushnell FL ~ 11:00 a.m.
Read More