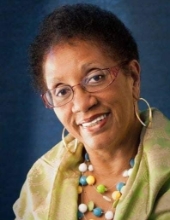 Obituary for Shirley Scott
Shirley Armstead Scott was Born April 14, 1937 to the late Henry and Jimmie Lee Armstead. She grew up in Linden, NJ and she was the 7th of 12 children. She loved her family with her entire heart and she never gave up an opportunity to tell a story about any of them. She was so proud at the fact of her parents being two of the original founders of Mount Moriah Baptist church of Linden, NJ. Her father was also one of the builders of the edifice. A fire extensively damaged the original building. God allowed the church to be repaired after which, the church was renamed The Greater Mt. Moriah Baptist Church. Shirley loved to serve others and most importantly she loved to serve the church. She was a member of the Greater Mount Moriah Baptist Church from a child until she moved to Spring Hill, FL in 2004. While in NJ she served on the choir for years where she was able to share her gift of singing with us all. She continued sharing her voice when she joined Antioch Fellowship Baptist Church of Spring Hill, FL in 2004. Shirley was a crafty and artistic woman. She loved being a part of vacation bible school where she was able to showcase her talent by helping create crafts for the children. She would use any thing that she could find like soda tops, popsicle sticks or clothes pins and find a way to incorporate them into a craft somehow. That's what she enjoyed, using her hands and sharing her gifts with all who would welcome it. She was one of the most selfless people that you would ever meet, she would give you the shirt off of her back with no questions asked. That was who "Shirl my girl" was.
In 1961 Shirley met the love of her life Joseph Scott and they began "going together" in 1962. In April of 1963 they got married and would have been married for 60 years this upcoming April. Together they had 2 children, Joe Jr. and Miles G. She was called Mom, Grandma, Gma, Aunt Shirley and Shirl my girl by so many.
Shirley was a retired Social Services worker for the County of Union in New Jersey. Earlier she owned and operated J&S Variety Store, better known as Dolly Madison's and Scott's Mini Market, both in Plainfield, NJ along with her husband Joe.
Shirley was preceded in death by her parents Henry and Jimmie Lee Armstead: Sisters, Bertha Bragg, Ida Smith, Harriet Donald and Diane Prott; Brothers, Robert Armstead, Sherman "Moe" Armstead and Ruben Henry Armstead.
Left behind to cherish her memory, Husband of 60 years: Joseph Scott Sr. of Spring Hill, FL; 2 sons, Joseph Scott Jr (Valerie) of Charlotte, NC; Miles G. Scott Sr. of Spring Hill, FL; 2 sisters, Carol Williams of Linden, NJ and Helen Grice of Spring Hill, FL; 2 brothers, Earnest Curtis Armstead (Rose) of Woodstock, GA and Ralph Armstead (Ella) of Freehold, NJ; 6 grandchildren: Grant Branham of Brooklyn, NY; Jevon Scott of Plainfield, NJ; Nicole Parrish (Curtis) of Port Richey, FL; Miles G Scott Jr. of Newark, DE; Malcolm Scott of Charlotte, NC and Sparkle Scott of Charlotte, NC; 3 great-grandchildren and a host of nieces, nephews, dear relatives and friends
She will be missed by all of the lives that she touched.
Read More
Previous Events
Visitation
Antioch Fellowship Baptist Church
9429 Santoro Street
Spring Hill, FL 34608
Service
Antioch Fellowship Baptist Church
9429 Santoro Street
Spring Hill, FL 34608