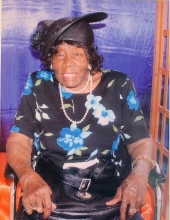 Obituary for Vera Thelma Chester
Vera Thelma (Stewart) Chester, born May 23,1925 in Brooksville, Florida to the union of Francis & David Stewart Sr. Vera was raised in a christian home along with 9 siblings. She accepted Christ at an early age at Mt. Zion A.M.E. Church on Mondon Hill. 
 
Vera (Our Mom), later fell in love and married Nathaniel Chester Sr.  65 years strong. They continued to live in Brooksville and to that union, 6 children were born. Mom, through the years was a very strong, diligent, hard working woman, whose hand were the epitome of a (Proverbs 31) woman, while raising her family.

In 1968, Mom & dad, with family located to Sodus, NY, joining relatives already there. Opportunities for better employment made it possible to remain as a second home. They found wonderful church membership with Pastor John & Estella McCloud, at Gravel Pit Church of God. To this day, they are loved, remembered and hold an honorary title within the church.  

Mom, was a very active soloist and choir member in Florida & New York.
She drew people close in worship by her singing ability and knowledge of old gospel hymns. Known as "Mother Chester", she was very active in her church ministry. Tuesday prayer services while, also participating in senior citizen activity programs.  

Our mom, loved cooking, and if you stopped by the house, you had to eat.
There was always food on the table and a story to share. She had two famous quotes:
"Let me tell you one thang about it (with pointed finger) and
"Wherever you are, be noble; whatever you do, do well, whenever you speak,
Speak kindly, give joy wherever you dwell."

 At 94 years old, she knew all of her grands, great grands, great - great grand.
She was the last surviving member of her siblings to get her wings. The true MATRIARCH of our family will be greatly missed by all.
**************************************************************************
Preceded in death by: Nathaniel Sr., Nathaniel Jr., Lucy Ann, James-Gregory, Desmond , and Shannon. 

Our mom leaves to mourn: Edward (Ethel) Chester, FL.; Mary (Bateman) Bain, FL.; Muriel Major, FL; Melba (Larry) Heath, NY; 14 grands, 20 great grands,1 great-great grand. 2 sister-in-laws, PA; A host of nieces, nephews and cousins. Our Queen will forever be cherished and claimed by many to be like a mom, aunt or grandma. That is just how wonderful she was. Her legacy will continue to live on by passing the torch of Love, Kindness, Hospitality, Excellence, and Serving the Lord with all our might! Lastly, in the times we live in, remember she would also say "be meek but not weak". Say her name Vera Thelma Chester with honor because between the dash she lived her life to the fullest with joy and laughter. We can now say, sit down servant and rest a little while. We love you but God loved you best!
Read More
Previous Events
Visitation
Faith Evangelical Presbyterian Church
200 Mt. Fair Avenue
Brooksville, FL 34601
Service
Faith Evangelical Presbyterian Church
200 Mt. Fair Avenue
Brooksville, FL 34601
Cemetery Details
Location
Lang Memorial Cemetery
WPA Road
Brooksville, FL 34601