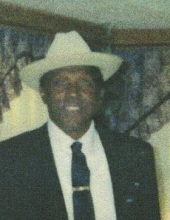 Obituary for Walter Harold Williams, Sr
NAME: Walter Harold Williams
BIRTH: December 2, 1934
PARENTS: The Late Horace Williams and the Late Charlotte Mobley
MARRIAGE: Fannie M. Waddy
CHURCH AFFLIATION: The House of God Church, Tampa Elder Wanda Wilson, Pastor
DEMISE: September 2, 2022
PROFESSION: Carpenter/ Builder
Elder Walter Harold Williams, was converted at the age of 18 in Brooksville, Florida. He tarried and received the baptism of the holy ghost in 1953 under the Late Elder J.L. Perkins, pastor. Six months later he married Sis. Fannie M. Waddy. Elder Williams served the church under the Late Elder P.F. Marsh as Sunday School Superintendent and as a Deacon and was the Chairman of the Deacon Board.
After a few year in Brooksville, he move his family to the East Coast of Florida where they resided in Hollywood, Florida, where he placed his name on the roll at the House of God Church in Dania, Florida, under the Late Rev. Horace Dexter Smith, Pastor and the Late Rev. M. L. Bynes Assistant Pastor.
As a builder, Rev. Williams worked faithfully with Rev. Smith and Rev. Bynes to construct the building in Dania, Florida which still stands today from the beginning construction up to the dedication of this church. Rev. Williams served for 13 years initially as Assistant Pastor and later as Joint Pastor with the Late. Rev. M.L. Bynes.
In 1972, Rev. Williams moved his family and their membership to the Miami Liberty City House of god Church under the Late Levi Wilson, Pastor. Elder Williams was a loyal and faithful member serving with other ministers of the church where Elder Williams designated all second Sundays for local ministers to preach.
After the demise of the Late General Elder L.V. Wilson in March 1984, Trial Elder Williams was appointed Pastor of the Miami Liberty City Church on March 11, 1984.
Elder Williams continued to build through his retirement the last edifice being his home church located in Tampa, Elder Wanda Wilson, Pastor.
He leaves to mourn, a devoted wife, Fannie M. Williams, two daughters Barbara Williams, Shirley Strong(Don), and four sons, Walter, Donald, Horace(Angela), Carl Williams. 5th son mention Late (Kenny Williams). In total 11 grand-daughters, 7 grand-sons,4 great grand-daughters, 20 great grand-sons, 1 sister Theola Norwood. He leaves multiple nieces, nephews, brother and sister in laws, cousins , Church friends and acquaintances all not possible to name here. He will be missed by many by all who knew him and could see his heart.
Read More
Previous Events
Visitation
Spring Hill Cemetery
8580 Fort Dade Ave
Brooksville, FL 34601
Graveside
Spring Hill Cemetery
8580 Fort Dade Ave
Brooksville, FL 34601
Cemetery Details
Location
Spring Hill Cemetery
8580 Fort Dade Ave
Brooksville, FL 34601